Heavy-Duty Stainless-Steel Firehose Reel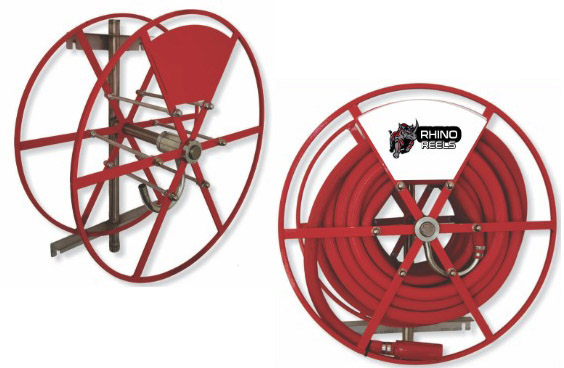 OVERVIEW
Durable Industrial Safety Equipment. Heavy-duty, stainless steel firehose reel offers a guaranteed long last life cycle and is specifically design and manufactured for mining, industrial or underground conditions.
Hydromine Projects International are the sole agent for Rhino Reels outside South Africa.
REEL SPECIFICATIONS 
The waterway is manufactured from 2mm thick, high quality gr304 stainless steel tube. The shoulder brackets with 3CR12 stainless steel, therefor highly corrosion resistant.
Stainless steel water hub with "19mm gooseneck", also to eliminate corrosion very effectively.
The inner part of the water-hub is fitted with two O-rings on both sides to maximise waterproofing.
Gooseneck tip rimmed to secure hose effectively.
High pressure, high quality O-rings.
Shoulder brackets are laser cut to ensure smooth edges.
Two 10mm x 10mm mild steel rims with six 20mm x 3mm flat bar pillars, all hand welded.
Rims are powder coated.
Almost ZERO maintenance.
No disassembly.
SABS pressure tested to 25 Bar.
SABS approved components.
DOWNLOADS